(Reuters) -Republican lawmakers in Florida filed bills on Tuesday to outlaw most abortions after six weeks of pregnancy, a ban that would severely undercut access to the procedure in the U.S. South if passed by the state's Republican-controlled legislature.
The bills, filed on the opening day of the legislature's 2023 regular session, make exceptions for rape and incest cases but not explicitly for the life or health of the pregnant person.
Florida Republicans, including Governor Ron DeSantis, have signaled their wish to further curtail abortions in the state after last year approving a ban after 15 weeks of pregnancy, with no exceptions for rape or incest.
Patients have been traveling to Florida from across the U.S. Southeast to end their pregnancies since the U.S. Supreme Court overturned Roe v. Wade last year, gutting federal abortion rights. More than a dozen states have banned the procedure almost entirely since that landmark ruling.
Data from Florida's Agency for Health Care Administration showed that the number of out-of-state abortion patients rose 38% in 2022 compared to 2021.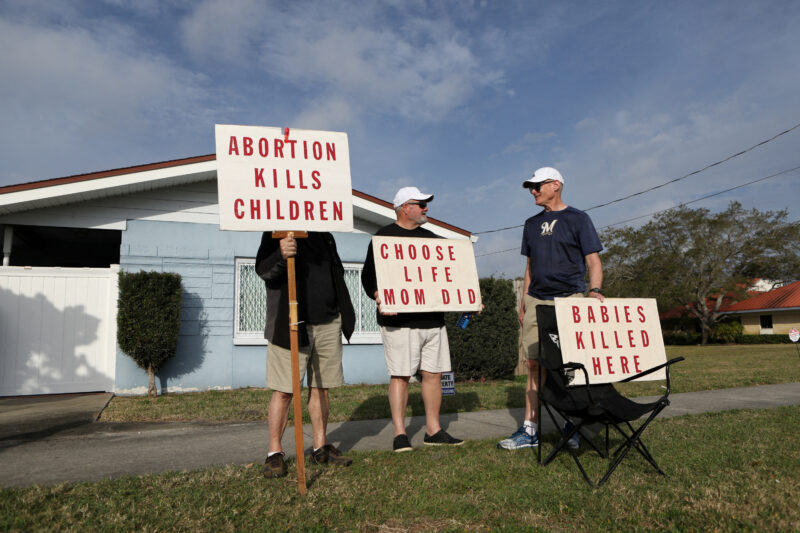 DeSantis, who is expected to challenge former President Donald Trump for the Republican presidential nomination in 2024, told reporters on Tuesday that he supported "pro-life legislation" when asked about the new bills. He has previously said he would sign an abortion ban as early as six weeks.
DeSantis said he thought the rape and incest exceptions in the bills were "sensible."
Abortion rights advocates and Democrats, including White House spokesperson Karine Jean-Pierre, spoke out on Tuesday against the new bills, which would ban abortion before many women know they are pregnant.
"As with all abortion bans, this bill will prevent people from accessing essential healthcare and take away people's power over their own bodies, their lives, and their futures," Laura Goodhue, executive director of Florida Alliance of Planned Parenthood Affiliates, said in a statement.
(Reporting by Gabriella Borter and Joseph Ax; Editing by Colleen Jenkins and Richard Chang)