EAST PALESTINE, Ohio (Reuters) -A U.S. train derailment that spilled toxic chemicals in an Ohio town might have been avoided if the railway company's alarm system had given engineers an earlier warning that bearings were overheating, the chair of the National Transportation Safety Board said on Thursday with the release of a preliminary investigation.
"Had there been a detector earlier, that derailment may not have occurred," NTSB Chair Jennifer Homendy told reporters in Washington. The incident prompted the evacuation of thousands of people and ignited health concerns.
While stressing a final report on the Feb. 3 derailment in East Palestine could be 18 months away, she said the NTSB could recommend that railroad companies lower the temperature thresholds that would trigger an alarm about overheated bearings.
Norfolk Southern Corp, the operator of the train, said in an emailed statement that its system to detect overheated bearings was operating normally in the area where the accident took place and said its warning system is among the most sensitive in the industry.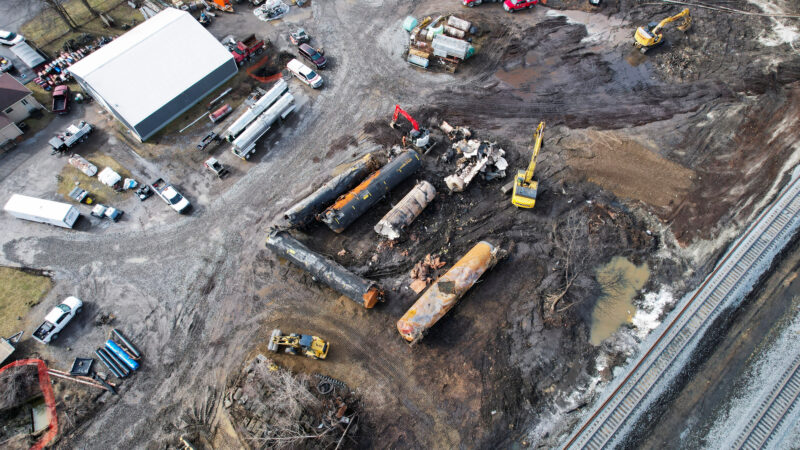 Norfolk Southern said it is cooperating fully with the NTSB.
The derailment has sparked a political battle and a blame game over railroad safety regulations, with residents voicing deep concern over the long-term health impact of the millions of pounds of carcinogenic chemicals spilled in their town.
U.S. Transportation Secretary Pete Buttigieg toured the wreckage on Thursday and took aim at freight rail companies over their responses to efforts to improve safety regulations.
Wearing a hard hat and orange safety vest while he met with NTSB staff, Buttigieg told reporters: "Norfolk Southern and the other freight rail companies need to stop fighting us every time we try to do a regulation."
Norfolk Southern's chief executive apologized on Wednesday at a CNN town hall event that highlighted residents' concerns about soil and ground water contamination.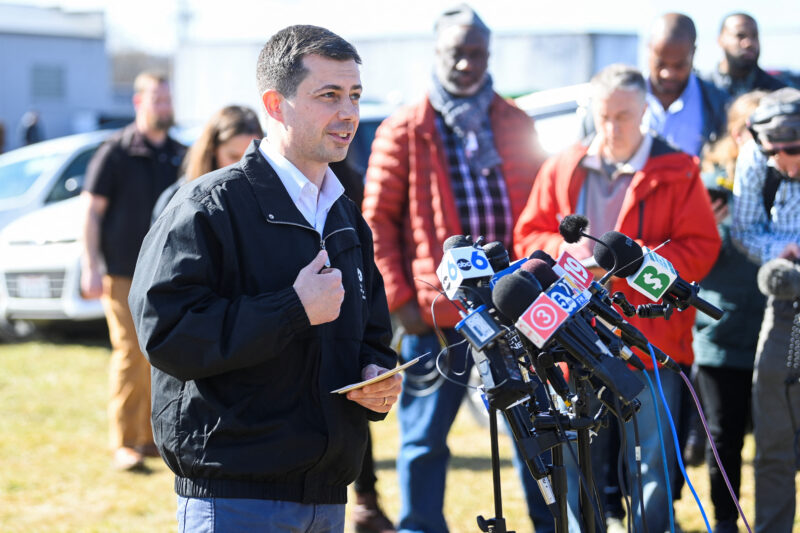 Homendy said that in 2021 there were 868 derailments across the United States of freight cars in the same class as the Norfolk Southern train that wrecked, a number she said was far too high and the result of both the industry and government not implementing previous NTSB safety recommendations.
The rail industry had said 99.9% of all hazardous material shipments reached their destination without incident and the hazmat accident rate has declined by 55% since 2012.
In its preliminary report, the NTSB said the train engineer applied brakes as soon as an alarm rang on Feb. 3 to warn of an overheated axle on the Norfolk Southern train.
RARE HEARING SCHEDULED
The NTSB said "defect detectors" showed the axle and wheel bearing starting to heat up about 30 miles (48 kilometers) from the derailment site, but not to levels that would have triggered the audible alarm to warn the train engineer that far away.
Each individual railroad company determines its own temperature thresholds for when alarms are triggered.
Before the derailment, temperature measurements on the Norfolk Southern train's suspect wheel were doubling every 10 miles in the lead-up to the derailment, the NTSB said.
Norfolk Southern, in its statement on Thursday, said it is now inspecting all of the nearly 1,000 wayside heat detectors on its system, on top of regular inspections every 30 days.
The NTSB said it would hold a rare "investigative field hearing" near the derailment site in East Palestine and call witnesses. The board said all parties involved in the derailment were fully cooperating with its investigation.
Some rail safety requirements were withdrawn under Republican former President Donald Trump. Some Republican critics of the East Palestine response who previously opposed rail regulations have now expressed openness to new rules.
The Democratic Biden administration had been criticized for not having made a high-level visit sooner. Buttigieg on Thursday said he had not wanted to make an earlier visit that might have impeded the emergency response.
The NTSB also said it was investigating whether pressure relief valves on train cars carrying the toxic chemical vinyl chloride functioned properly following the wreck and subsequent fire.
Experts have said that if those valves had functioned properly, authorities may not have needed to drain upward of 1.1 million pounds of vinyl chloride from cars and purposefully set it ablaze, contaminating the environment.
President Joe Biden and his administration have said Norfolk Southern must pay for the damage and clean-up efforts. The EPA ordered company officials to attend town hall events after executives failed to attend an earlier meeting in East Palestine.
Russell Quimby, a retired NTSB investigator, said rail companies should monitor differences in temperature readings between the sensors spaced along a rail line, which could give an early warning that a bearing is failing, rather than wait for a bearing to hit a high temperature to sound an alarm.
"They start slow, but the longer it (the train) goes, the quicker they fail," Quimby told Reuters. "They stop heating up if they stop the train."
(Reporting by Julio-Cesar Chavez in East Palestine, Brad Brooks in Lubbock, Texas, Lisa Baertlein in Los Angeles and Susan Heavey in Washington; Editing by Donna Bryson, Howard Goller and Leslie Adler)