EAST LANSING, Mich. (Reuters) – The gunman who killed three Michigan State University students and wounded five others before taking his own life had a history of mental illness and carried a note in his pocket indicating a threat to two New Jersey schools, police said on Monday.
The disclosure of an apparent New Jersey connection to the suspect, 43-year-old Anthony Dwayne McRae, came as investigators sought clues to what prompted him to open fire Monday night on the MSU campus in East Lansing, about 90 miles west of Detroit.
McRae, who lived in the adjacent city of Lansing, Michigan, the state capital, had no known affiliation to the university or associations to any of his victims, MSU police have said.
"We have no idea why he came to campus to do this," Chris Rozman, interim deputy chief of MSU police, told reporters early Tuesday, hours after the shooting at an academic hall and nearby student union building. A neighbor of McRae's described him to Reuters as "a real hell-raiser" who often fired his gun at home.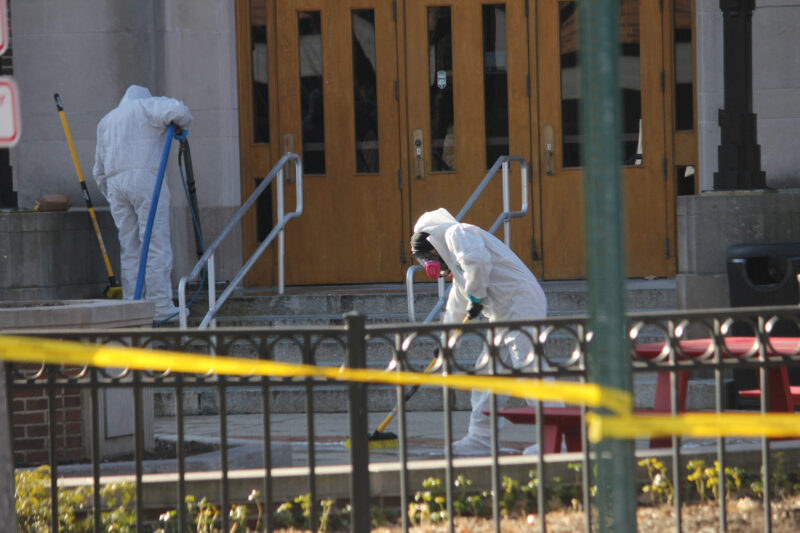 The shooting began at about 8:30 p.m. local time, and the entire campus and surrounding neighborhoods were placed under a security lockdown while police searched door-to-door for the gunman. The manhunt ended about three hours later in Lansing, where McRae shot himself to death, authorities said.
It remained unclear whether the suspect was already dead when officers caught up to him, acting on a tip from the public after MSU police had released two still images of the suspect from surveillance video.
The images showed him walking into a building, then mounting a flight of stairs wearing a jacket, a baseball cap and a black mask over his lower face. He appeared to be holding a pistol in one hand, but authorities have not disclosed what type of weapon was used.
NEW JERSEY TIES
Among the evidence that surfaced on Tuesday, authorities in Ewing, New Jersey, said police had found a note in the gunman's pocket that "indicated a threat" to two public schools in that Delaware River township.
The "investigation revealed that McRae had a history of mental health issues," Ewing Township police said in a statement on Facebook, adding that McRae had ties to the Ewing community, and that area schools were closed for the day "out of an abundance of caution.
An 85-year-old neighbor of McRae's in Lansing, speaking on condition of anonymity, described him to Reuters as "a real hell-raiser" who often fired his gun on the property where he lived with his father.
"We'd hear the gunfire all the time, and then it seemed the cops were always down there for something," the neighbor said.
The suspect's father, Michael McRae, told The Washington Post his son was arrested for carrying a loaded firearm without a concealed-weapons permit in 2019 and later lied about having a gun inside his home.
RELIVING TRAUMA
MSU canceled all classes and other activities for 48 hours as traumatized students and faculty grieved for the victims of America's latest spasm of mass gun violence.
"I will never forget the screams of my classmates because they were screaming in pain for help," sophomore Claire Papoulias, who was sitting in her Cuban history class when the gunman stormed in, recounted on NBC's "Today" show.
Papoulias said she dropped to the floor when she started hearing gunshots directly behind her head. "Someone was yelling that there was a shooter and everybody needed to get down on the ground, and at that moment I thought that I was going to die. I was so scared," she said.
The five wounded students were listed in critical condition at E.W. Sparrow Hospital in Lansing, where surgery was performed on four of them, Dr. Denny Martin, the hospital's chief medical officer, said during the briefing as he struggled to keep his composure.
"I am filled with rage that we have to have another press conference to talk about our children being killed in our schools," said U.S. Representative Elissa Slotkin, a Democrat who represents the area in Congress. "If this is not a wake-up call to do something, then I don't know what is."
The shooting took place about 30 miles south of Oxford, Michigan, where a teenaged gunman in 2021 used a semi-automatic handgun his father bought as a Christmas present to kill four students at the local high school.
Monday's shooting came a day before the five-year anniversary of the Valentine's Day massacre at Marjory Stoneman Douglas High School in Parkland, Florida, where 17 victims died.
"Another place that is supposed to be about community and togetherness is shattered by bullets and bloodshed. We know that this is a uniquely American problem," Michigan Governor Gretchen Whitmer said during the briefing, noting that she spoke to President Joe Biden about the incident.
University police identified the slain students as Alexandria Verner, a junior from Clawson, Michigan; Brian Fraser, a sophomore from Grosse Pointe, Michigan, and Arielle Anderson, a junior also from Grosse Pointe.
Verner was a 2020 graduate of Clawson High School, near Detroit, local ABC affiliate WXYZ-TV reported, citing a letter from the district's superintendent.
"She was a tremendous student, athlete, leader and exemplified kindness every day of her life!" Superintendent Billy Shellenbarger wrote to families, WXYZ-TV reported. "If you knew her, you loved her."
(Reporting by Eric Cox in East Lansing. Additional reporting by Brendan O'Brien in Chicago, Tyler Clifford in New York City and Rich McKay in Atlanta; Writing and additional reporting by Steve Gorman in Los Angeles; Editing by by Nick Zieminski, Lisa Shumaker and David Gregorio)