U.S. Senator Dianne Feinstein, who admirers have called a trailblazer for women in American politics, announced on Tuesday that she will not seek re-election in 2024, clearing the path for a hotly contested race for her seat among California Democrats.
First elected to the Senate in 1992, Feinstein is the oldest member of Congress at 89. She had been under pressure to resign in recent years and had pushed back on lawmakers' accounts that her memory had deteriorated.
"I am announcing today I will not run for reelection in 2024 but intend to accomplish as much for California as I can through the end of next year when my term ends," she said in a statement.
"There are times for all things under the sun and I think that will be the right time," she told reporters.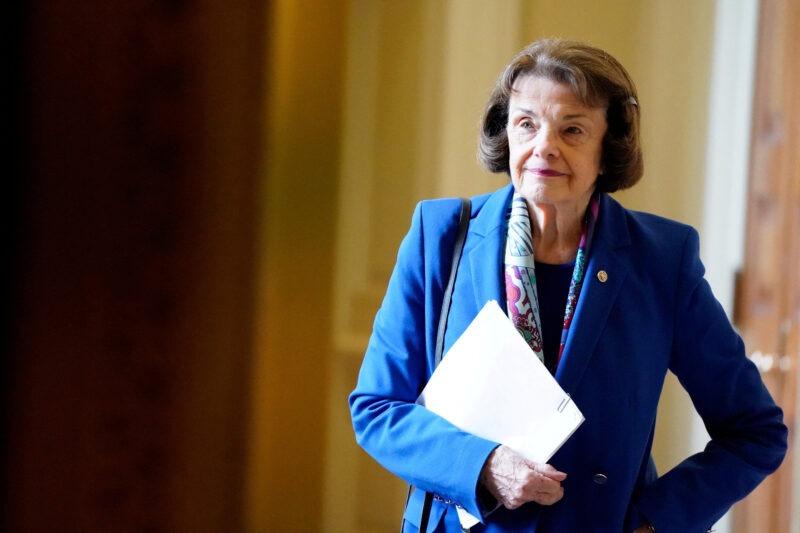 Feinstein, who declined to endorse a successor on Tuesday, had led the way for women in U.S. politics: the first to serve as mayor of San Francisco, the first to chair the Senate Judiciary Committee and now the longest-serving female senator.
"I've served with more U.S. senators than just about anyone. I can honestly say that Dianne Feinstein is one of the very best," Democratic President Joe Biden said on Tuesday night, noting their time serving together on the Senate Judiciary Committee.
California reliably votes Democratic, and the state is home to many up-and-coming politicians who will eye Feinstein's seat.
Several Democrats had already announced or hinted at runs before her announcement, including Democratic Representatives Katie Porter and Adam Schiff. California will hold its primary elections on March 5, 2024.
Democratic Senate Majority Leader Chuck Schumer told reporters that Feinstein gave a teary address to her fellow Senate Democrats at a weekly lunch and received a standing ovation that lasted "minutes and minutes."
"She's a legend," he said. "She was the leader on so many different issues – assault weapons, environment, women's rights and so much else."
Feinstein had been expected to serve this year as president pro tempore, the ceremonial head of the Senate and third in line to the presidency, a position typically given to a senior senator of the majority party.
She decided not to seek the position months after Schumer declined to say whether he had confidence in her ability to serve. Instead, Senator Patty Murray, age 72, was installed in the job.
Feinstein "was a tough woman on the front lines in fights like access to assault weapons and national security and intelligence," Democratic Senator Elizabeth Warren told reporters on Tuesday. "Every other woman in public office owes a special debt to Dianne Feinstein."
While the California Senate seat is expected to remain safely in Democratic hands, 2024 races in such states as Arizona, Montana, Ohio and West Virginia pose challenges to the Democrats' ability to hold onto their Senate majority going into 2025 because of Republicans' strength there.
(Reporting by Moira Warburton; Editing by Richard Cowan, Howard Goller and Leslie Adler)